MSRA10K Salient Object Database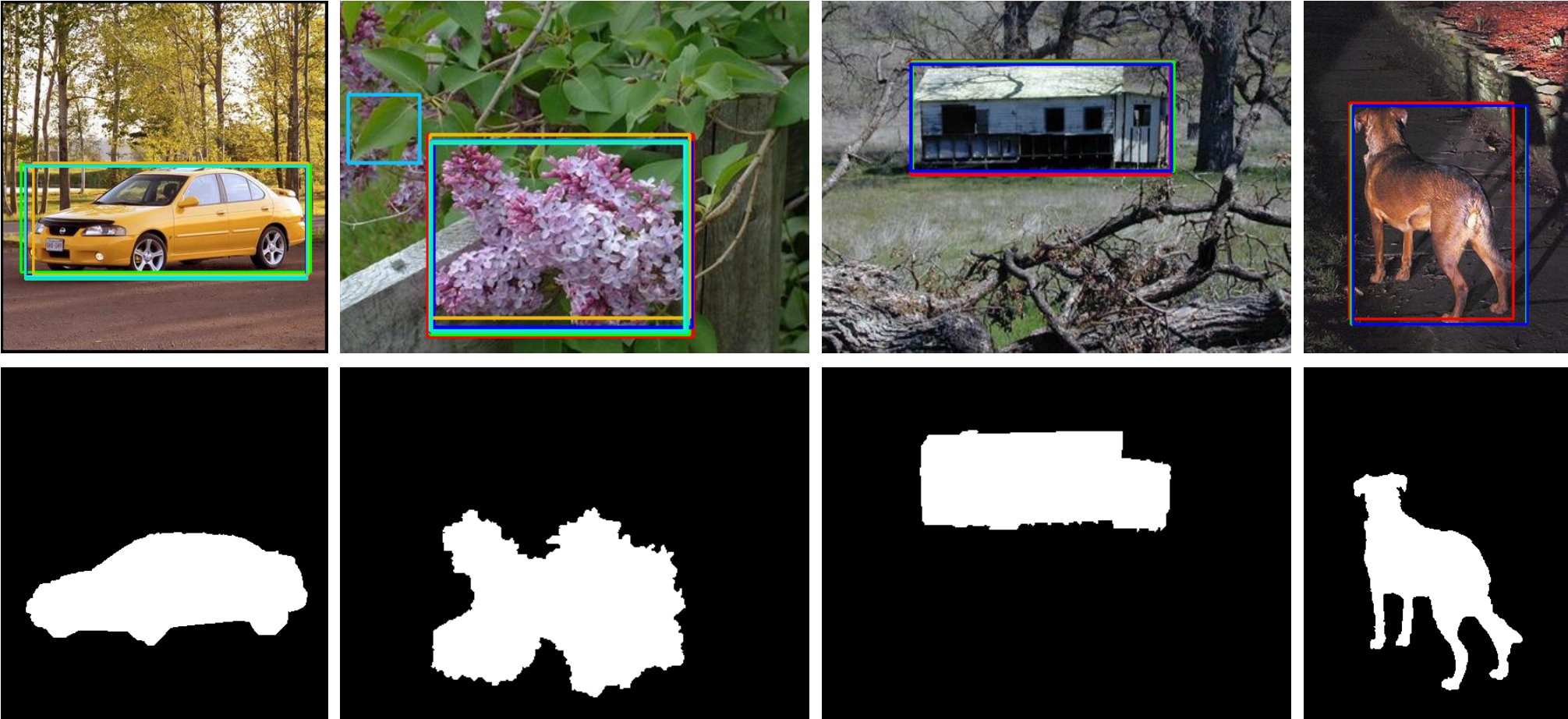 Ground truth examples: (first row) original images with ground truth rectangles from MSRA dataset, (second row) our ground truth, which have more precisely marked important regions at pixel level accuracy.
The  MSRA Salient Object Database, which originally provides salient object annotation in terms of bounding boxes provided by 3-9 users, is widely used in salient object detection and segmentation community. Although an invaluable recourse to evaluate saliency detection algorithms, the database with the marked bounding boxes, however, is often too coarse for fine grained evaluation as observed by Wang and Li [ICASSP 2008], and Achanta et al. [CVPR 2009]. In order to do more extensive and accurate evaluation, we randomly selected 10,000 images with consistent bounding box labeling in MSRA database. We call this dataset MSRA10K because it contains 10,000 images with pixel-level saliency labeling for 10K images from MSRA dataset. In our experiments, we find that saliency detection methods using pixel level contrast (FT, HC, LC, MSS) do not scale well on this lager benchmark (see Fig. 11(a)), suggesting the importance of region level analysis.
Downloads
MSRA10K (195MB): Pixel accurate salient object labeling for 10000 images from MSRA dataset. Please cite our paper [BIB] if you use it. Saliency maps and salient object region segmentation for other 20+ alternative methods are also available (5.5GB).
Suggested references
Global Contrast based Salient Region Detection. Ming-Ming Cheng, Niloy J. Mitra, Xiaolei Huang, Philip H. S. Torr, Shi-Min Hu. IEEE TPAMI, 2015. [pdf] [Project page] [Bib]
Learning to Detect A Salient Object. Tie Liu, Jian Sun, Nan-Ning Zheng, Xiaoou Tang and Heung-Yeung Shum.  IEEE CVPR, 2007.

R. Achanta, S. Hemami, F. Estrada and S. Süsstrunk, 

Frequency-tuned Salient Region Detection

, 

IEEE CVPR

, 2009.
Other salient object dataset
(Visited 15,349 times, 1 visits today)